Dunbar is at the mouth of the Firth of Forth, nationally & internationally important for wildlife and also the birthplace of John Muir, father of environmentalism.
We're just 30 miles east of Edinburgh and 30 miles north of Berwick upon Tweed with excellent walking, cycling, sea, bus and train links.
The historic Royal Burgh of Dunbar is packed with Scottish history, sitting in a spectacular seascape and landscape with both gentle and rugged coastline. Our harbour is a wonderful walking space with grand sea views. You can get close to the working fishing boats (but don't get in the way or fall in!). We have 33 colourful fishing boats and moorings for 45 leisure boats.
There is limited parking with other parking nearby.
Our three harbours include attractive former workshops and granaries, reminders of the herring and fishing industries.
Cromwell, the 'old' harbour is 17th century, but the history goes back to stone age times.
Today, Dunbar's 19th century Victoria Harbour, is a bustling scene with a commercial fleet landing locally-caught shellfish.
Our harbour is also home to one of the largest lifeboat stations in the area, a thriving Sailing Club and a Coastal Rowing Club. It is a tourist hub too with many diving clubs setting off to enjoy the underseascapes around Dunbar and with anglers 'trying their luck'.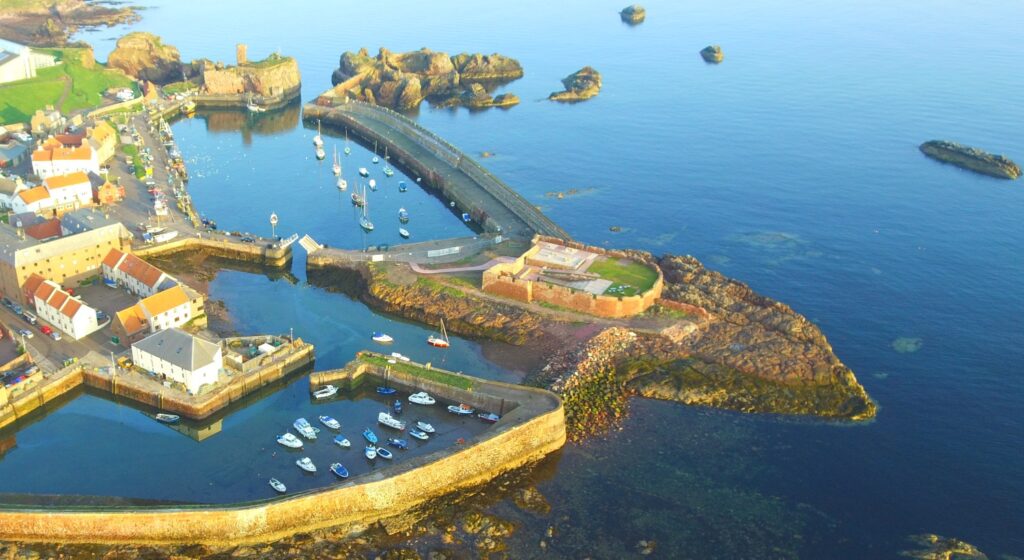 Donate
Dunbar Harbour Trust is the charity that looks after Dunbar Harbour.
Donations go towards meeting the costs of its overall charitable activities. But if you want to make it a big one or for a specific project, get in touch.