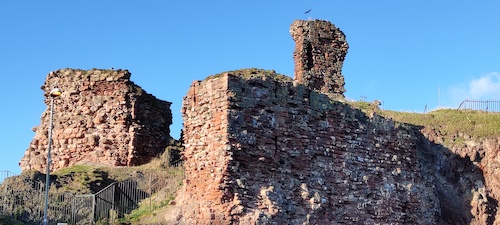 Do you ever wonder what this ruinous castle used to look like? The truth is we don't know 'cos it's been attacked, damaged, and rebuilt so many times that its appearance has changed drastically over the centuries, but it has always been defensive – 'Dunbar' means the 'Fort of the Headland' and has been a fort for more than 2,000 years – probably since Roman times.

1338: Black Agnes, Countess of Dunbar, defended the castle against a siege by the Earl of Salisbury. She is said to have her ladies-in-waiting dust the battlements after bombardment, as a mocking gesture to the Earl. After a futile six months, he retreated south.

1566: Mary, Queen of Scots took shelter here during some of the most turbulent times of her life and sought refuge after the murder of her Italian advisor, Rizzio.

1844: The dog-leg entrance to Victoria Harbour was blasted through the castle's remaining ruins and our splendid new harbour opened for fishing-boats.
Q: Why does the entrance have the shape of a dog-leg?
A: To reduce the surging waves coming through (clever these engineers).