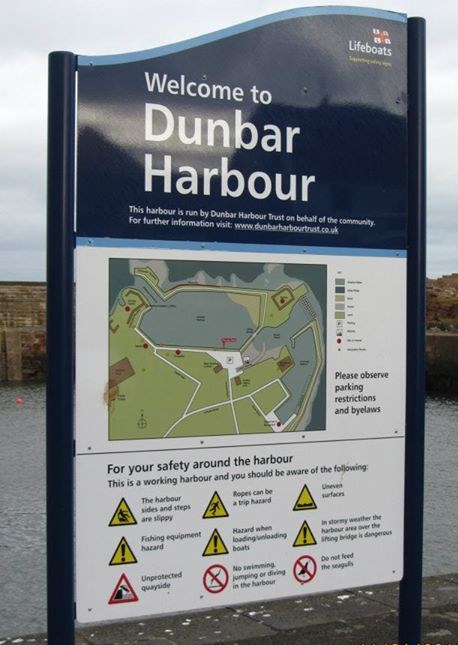 Situated at the mouth of the Firth of Forth, Dunbar is one of East Lothian's most beautiful and popular seaside towns, being known internationally as the birthplace of John Muir, renowned naturalist and conservationist. Dunbar is located 30 miles east of Edinburgh and approximately 30 miles north of Berwick upon Tweed with good bus and train links both north to the Capital and south to Newcastle and beyond.
Follow these links for information for visiting vessels and leisure craft and tide information.
Dunbar features historic buildings, spectacular landscapes and rugged coastlines and around the harbours are attractive former workshops and granaries.
A town of three harbours, Dunbar was once a major herring and whaling port.Its old harbour dates from the 17th century. Dunbar Harbour is a busy working harbour with a commercial fleet landing mainly shellfish. The harbour is also home to one of the largest lifeboat stations in the area and there is a thriving Sailing Club and a Coastal Rowing Club as well as attracting many diving clubs to enjoy the seas around Dunbar.
Dunbar Harbour Trust is the charity that looks after the harbour, and the Trust is always most grateful for any donations that can go towards meeting the costs of its charitable activities.
TRANSPORT
By Walking: There are many walking routes. Dunbar Harbour is on the famous John Muir Way
By Train: https://www.nationalrail.co.uk/ Just stroll down to the harbour, 15 minutes walk.
By Bus: Lothian Buses X7 Edinburgh – Dunbar Just stroll down to the harbour, 8 minutes walk.
By Cycling: Dunbar is on many cycling routes. There is a bike rack and cafés at the harbour.
By Car: 35 minutes from Edinburgh.
Much of our working harbour is accessible with care for wheelchairs and mobility scooters but some quaysides may have ropes across the footway.
Watch our video: Dunbar Harbour, by Mclean Photographic
Motorhomes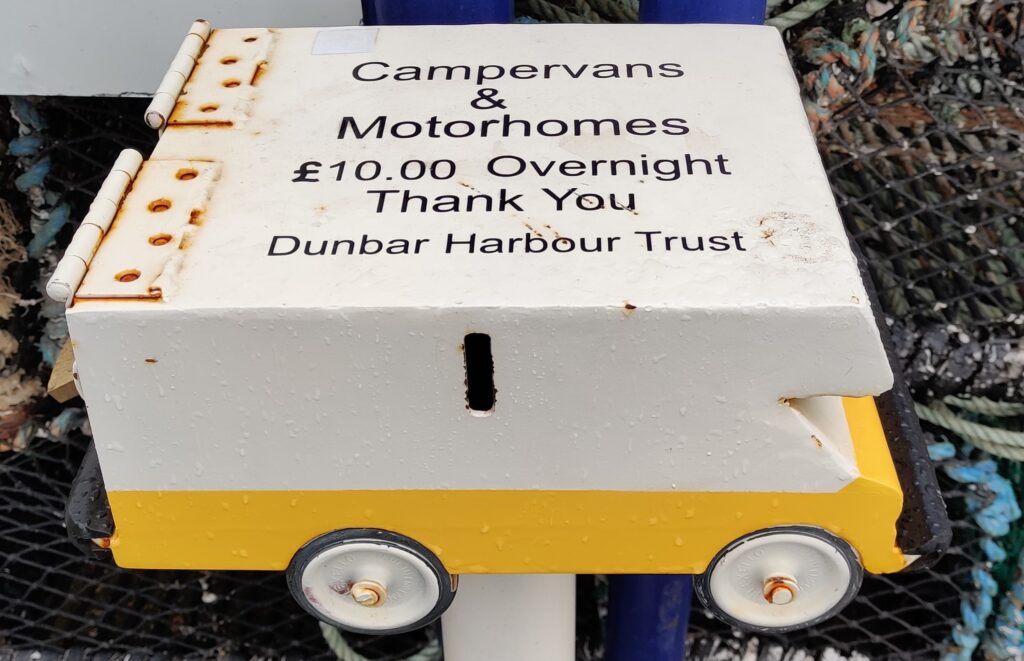 Please make a donation to the Harbour Trust using the QR code or place in the donation box. A minimum £10 donation is appreciated.
https://cafdonate.cafonline.org/19527

Please park motorhomes or campervans responsibly in the car park spaces only.
Caravans are not permitted.
Ensure you are not blocking or overhanging the access route to the quayside.
Use only one parking space and do not park on the quaysides.
Do not cross the bridge (max. weight = 3 tonnes).
We have no waste disposal facilities. Please dispose of your litter and other waste off-site.
Maximum stay is one night.
For all enquiries contact the Harbour Master
Harbour Master: harbourmaster@dunbarharbourtrust.co.uk /(+44) 07958 754858
Parking and Trailers
Parking: parking space is very limited and for short stays only. Carefully stop and check before parking.
Do not overhang the fishermen's working road or area.
Trailers are welcome but parking space is very limited, and for short stays only. Carefully stop, check, and ask.
Prepare your boat (fuel, battery, tailboard, strap-downs) on the hard, before entering the Lifeboat's slipway. Do NOT block it.
After launching, swiftly reposition your trailer over the bridge (max. weight = 3 tonnes) to the North Wall. You may need to disconnect here to turn around.
Please do not block the fishermen's working areas.
Charges: Please pay the Launching Fees into the slipway Donations Box or direct to the Harbour Master.
Harbour Master: harbourmaster@dunbarharbourtrust.co.uk / (+44) 07958 754858